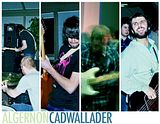 After a strong start, 2008 is continuing to look up, especially in the arena of emotional hardcore and indie-rock. With the possibility of a follow up LP from Circle Takes the Square, and now the debut album from Philadelphia upstarts
Algernon Cadwallader
, 2008 may be the year to fully pull the genre out of it's slump of the past few years. Where last year brought listeners the
Abyssal
EP from Envy and the superb Ampere/Daitro split on top of other lesser-known releases, this year brings the debut album from Philadelphia upstarts
Algernon Cadwallader
. Blending a style that most resembles Cap'n Jazz but with a more mature edge, this is honestly one of the most refreshing midwestern emo/indie albums I've heard in quite a while. Combining elements of the aforementioned Cap'n Jazz, Mineral, and Karate,
Algernon Cadwallader
has already crafted an album that, barring an astoundingly good year in music, will probably place within my top 20.
Some Kind of Cadwallader
succeeds where other emo albums fail-variety. There are moments of straight up math-rock akin to Maps & Atlases ("
Yo Soy Milk
"), trippy guitar-driven post-hardcore ("
Some Kind of Cadwallader
"), and even some jazzy post-rock sections that wouldn't sound out of place on Do Make Say Think's most recent LP ("
Motivation Song
", the 13 minute epic jam "
In Response to Irresponsibility
"). Definitely a must-hear.